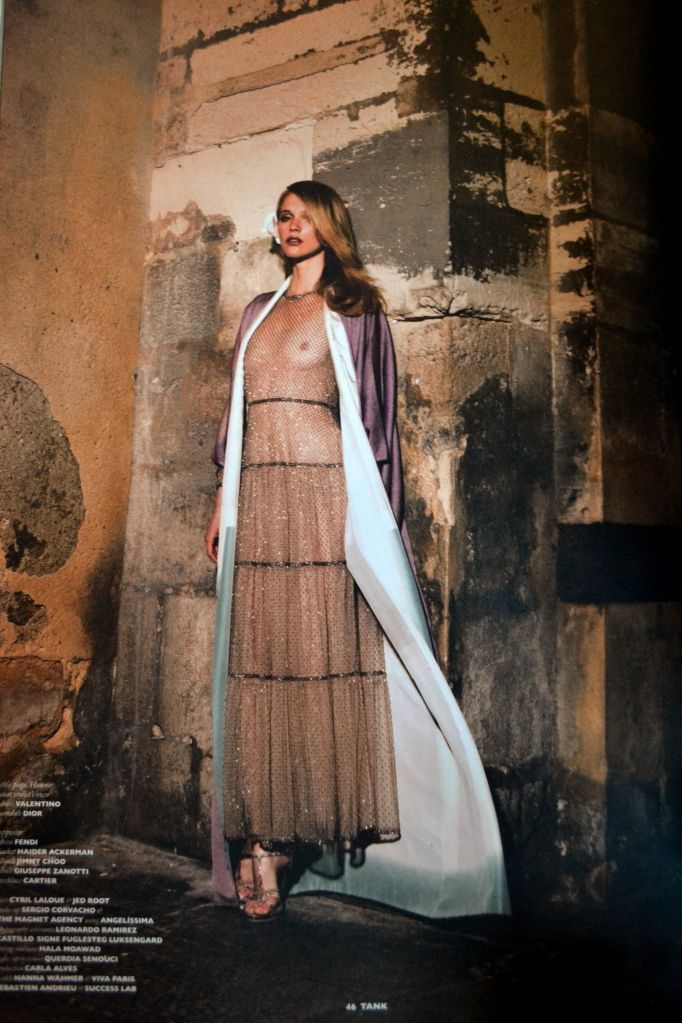 Image: TANK Magazine, Issue 7
So, I bought a new dress. Actually if I'm being honest, since I last spoke about my wardrobe (specifically), I've bought about fifty dresses* but who's counting really?
But, specifically, there's a single dress that we're talking about today. I would love to show you said dress but unfortunately it doesn't appear to be on the Topshop website so you're going to have to create a visual from the following description: it's black, it's short, it's strappy, it drops down a bit at the back and it has one big frill on the bottom hem.
Oh, and it's sheer.
Dun, dun, dunnnnnnn. It's sheer. And now we're to the point - what does one wear with a sheer item? This is something I struggle with more frequently than I'd care to admit. All because I can't seem to find anything appropriate to wear underneath it. Nothing ever feels quite 'right' to me. So, just to highlight my point, here's an item-by-item breakdown of things that could be worn under my sheer dress, but can't.
1.
Nude Underwear
: nude underwear looks like granny underwear (90% of the time). And with the strappy nature of the dress coupled with the level of sheer-ness going on, you'd be able to see it. Which is not the point of nude underwear, in my opinion.
2.
Nothing
: I don't have a supermodel body, so only having my birthday suit on underneath would not do any justice to my beautiful new dress. 'Nuff said.
3.
American Apparel Bodysuit
: The whole "visibility" thing again.
4.
Slip-dress/Dress
: The most likely option... but double straps isn't a look I personally like - it's a last resort for me!
5.
A top
: This wasn't a look I'd personally think of, but I had the conversation that inspired this post with the girl at the till in Topshop, and she suggested this, which I think is a good idea on how to style the dress for different occassions, but I wouldn't want to do this everytime I wore it!
So why did I buy the dress? Well, as ever, I couldn't
not
buy the dress. It's so essentially me in all it's black-short-floatyness that leaving it on the rail would have tormented me to the point where I'd end up paying double the amount for a used version of the same dress on ebay (this has happened before).
I still haven't come to a conclusion on this matter, and this is more of a question post, so I'd love to hear your thoughts! Do you guys have a fail-safe something that you wear with sheer items? Or do you just go for it? Let me know!
*slight exagerration
Don't forget you can still vote for Polway in the Best Established Fashion Blog Category in the Cosmo Blog Awards 2012! You can do that here.