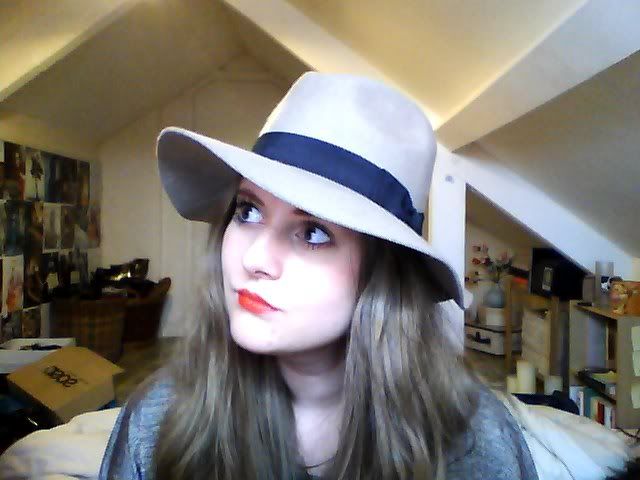 Just messin' around wearing my
ASOS
Floppy Fedora
I mentioned a while ago that I bought this hat, and I can honestly say that I'm in love with it. I took it with me to Edinburgh and so many people complimented me on it, and I was even once stopped in the street to be asked about it! Unfortunately it's no longer on the website, but loads of places seem to be doing similar styles! You can't really see in
the crappy webcam
picture, but it's a camel colour with a black band which means it matches 90% of my wardrobe. WOOP.
Another recent acquisition is this lip colour, which is the Revlon Just Bitten Lip Stain + Balm.
It. Is. Amazing.
I really like colour on lips but since I talk, drink, eat etc. I find it hard to wear lipstick/balm because I have to reapply every two seconds. So far, this Revlon Stuff has not budged. I put it on one night to test it at home, tried to take it off, and still woke up the next morning with the remains on! Amazing. The one I'm wearing is 'Flame', but I also have it in 'Frenzy'. For those in the UK it's also on offer at boots right now!
Ok, that's it for now. Tonight I'm going to test the lipstain further by eating lots of Thai food with my friends.
Apologies for the state of my room in the background (if you look really closely you can see the ASOS box my hat arrived in... ha).